Posts Tagged 'Guest-Post' Archive
Today, I have a guest-post for you all by Charlie Holmberg. I'm blessed to have this lady as a CP–she constantly inspires me with her beautiful prose, which is exactly what she's guest-posting on. I hope someday that all of you get to read her writing! But since you can't do that now, I suggest reading below for some ideas from her on how to benchpress your prose. Enjoy!
Regardless of whether it was or not, I always saw my prose as one of my weakest writing skills. Which is funny, since in a way, writing IS prose. I knew I could only strengthen my prose by reading a lot more and by performing a lot more writing exercises. I especially wanted to "break" the YA-sound that naturally came to my words, so I didn't read a single young adult book for a year. I avoided them like the plague (which is ironic, since  three of the last four books I've written are all YA. Funny how that happens).

While I'm hardly done learning, I've noticed in the last six months that I've gotten better feedback on my prose, which is still shocking to me (but makes me incredibly happy). And since Juliana, for some reason,  thinks I know what I'm doing and she's officially "legit," I'm hoping some of what I have to say will be helpful.

I'd like to share four exercises that really helped strengthen both my prose and my attention to detail:

Exercise 1: The Copycat

Find a book with prose and descriptions that you really admire and select an especially strong paragraph from its pages. Copy it down. You pay a lot more attention to how an author writes when you freehand it. (My personal book of choice for this exercise isBlackdog by K. V. Johansen.)

Once that is done, write your own paragraph, but do it in the same pattern as the paragraph you copied. So if you copied down The looming house, complete with mustard-colored shutters and black cat in the front window, you would write something like, "The heavy sky, filled with cake-like clouds and a faded sun on the east horizon."

It'll make you think. 🙂

Exercise 2: Stare Until Your Eyes Bleed

Grab a pen, a notebook, and a timer and get yourself lost somewhere. A park, a bookstore, the auto-aisle at Walmart, whatever suits your fancy. (Though I do recommend starting somewhere nature-y.)

Sit down. Find something to stare at.

Now set your timer for 15 minutes and describe that thing.

After the first minute or two, once you run out of adjectives like "green," "big," and "dark," your brain will start straining for new ways to detail its stare-spot. No pausing. Write down anything that could describe that tree, that bench, that woman with the pink overalls, even if it's ridiculous. By minute six, you should be starting to break the confines of the box.

Exercise 3: Default to Worldbuilding

All writers worldbuild in one way or another, even if they don't write fantasy or science fiction. Build upon the setting, build upon characters' pasts. Even if it's not relevant to the story. Because when you build a world outside the confines of the story, it feels more real. Not just to you, but to the reader. Readers can tell how much thought you've put into a story, believe me. And who knows . . . one of those extraneous details might come in handy later in the story; it might add a sense of realness to a scene, or might even solve a plot hole.

As an exercise, create a place–a city, a planet, a park–and describe it until its real. What kinds of trees it has, when the last lightning storm came, what it looked like 3,000 years ago. Weather, square mileage, population, flora and fauna. That weird lake smell that always hits between 10 and 11:30 at night. The homeless man named Bruce who sits on the corner of Main and Luther Street, except on Sundays when he relocates to the Evangelical church because he gets more handouts. 

And when you're writing your own book, go above and beyond, even if half your worldbuilding knowledge never makes it into the story. Tolkien spent 20 years on his world, we certainly can spend a couple weeks on ours.

Exercise 4: Buy The Writer's Portable Mentor by Priscilla Long

There are a lot of great writing books out there (some of my favorites are How to Write Science Fiction and Fantasy by Orson Scott Card and Save the Cat by Blake Snyder). One of the problems with the bulk of writing books, however, is that they don't focus on prose. They focus on story: plot, setting, character. And those elements are crucial. But what if you want to strengthen your actual words?

The Writer's Portable Mentor by Priscilla Long is an AMAZING book that focuses almost entirely on prose. I truly believed it made me a better writer. It's full of exercises that will strengthen your ability to describe. I've read through it twice, and when I read it a third time I'm positive I'll find golden nuggets of knowledge I missed. Check it out from the library, at the very least.

I would love to hear about what authors you admire for their prose, and other exercises you recommend to strengthen prose!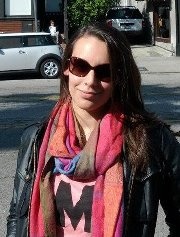 I have a very special treat for everyone today! Lauren Spieller is guest-posting today on the 

dreaded query

! Lauren is an agent intern and has quite the eye for making a query shine. This past week, she began a query critiquing business and has already been flooded with requests (ie: pleas for help!).
She's also offering a 10% discount if you contact her for a query critique and mention this blog post AND she's graciously offered to give one lucky commenter a free query-critique. So, make sure you when you comment to post a way for her to get in touch. One week from today, 

random.org

 will choose a winner.
Without further ado, help me to welcome Lauren to the blog! (also, if you have other questions, post them in the comment section and either Lauren or I will try to respond!)
***
Queries are hard. It's a fact of life, of nature. Queries are really, really hard.
But why? They're just short summaries of a novel, right? You wrote the book, so summarizing it should be a piece of cake! Right? Wrong.
Queries force you to creep inside your novel, to learn how its internal mechanisms function, to grasp at its still-beating heart. To write a truly spectacular query letter, you need to know your book from the inside out—what makes the characters tick? What conflict drives the plot? And what, for the sake of all that is holy, is at STAKE?
Juliana has been kind enough to put together a bunch of excellent questions about queries and querying. I hope you find my answers helpful! I'll be checking in for the next week to see if you've added any of your own questions, so don't be shy!
How do I open a query? What should the first line be? – ImJustCasey
Dear NAME,
You'd be surprised how many people don't address their queries to a specific agent (or spell the agents name wrong!)
Once you've done that, you have a couple of options. Some people choose to jump straight into their novel summary, while others feel more comfortable giving a short introduction to their manuscript first. Both options are perfectly fine, but if you'd like to open with something, you have a few options.
If the manuscript was requested (either during a contest, on a blog, or at a conference), feel free to reference this fact. Something as simple as "Thank you so much for requesting my query via #PitMad (or at the Writer's Digest West Conference, etc.) Below you'll find…." And then whatever it is that you're including (query, pages, synopsis, etc.)
If you're querying without having been requested (which is totally fine…no shame in being discovered in the slush!), then you can start with something as simple as "I am seeking representation for TITLE, my WORD COUNT + GENRE. Below I have included…" and then whatever it is they ask for in their submission guidelines (found on the agency website).
What are the vital elements of a query: ie, format, biography, stakes?
A good query will include THREE ELEMENTS:
a brief summary (2 paragraphs or so) of your book

info about the title/word count/genre.

a short bio containing information that is RELEVANT to your novel.  Are you writing a non-fiction book about water skiing? You better mention that you have an Olympic medal in aquatic sports. Or whatever. Shut Up.
That's it. But! I also recommend including a tailored message to the agent (ie I'm querying you because you said you were interested in Dragon tales, and by jove, I've written one!). 
Is it true that your query should be personalized for each agent?
Yes. 😉
How do you write a query when your book has multiple POVs? – similar to @RebeccaEnzor's question
This is so tricky, isn't it? I'm going to admit to you guys that I have yet to do this. In fact, my current ms SIGHTLESS is told from the pov of a 16yo, but the novel is interspersed with chapters from her mother's pov. And yet, I chose not to write a multi pov query. I decided that since the 16yo dominated the majority of the novel, it was unnecessary to include her mother's pov in the query.
However, if you're writing a novel that is split evenly between two characters (or even 70%, 30%), you may not be able to do that. Juliana and I were discussing this very issue, and she showed me a great query that was written from a single pov, but managed to make it clear that there were many POVs in the novel.  You can check it out here.
If that doesn't appeal to you, then you can include both points of view. Again, you have options. Some people like to write their query from the pov of an actual character. If this is your style, then you're going to have to dedicate one paragraph to each character, and make sure that  a) both characters have distinctive voices, and b) your paragraphs aren't repetitive. Honestly, this is so difficult to do well, that I think you might want to skip it unless you think it's ABSOLUTELY necessary for your novel.
The other option is to address what's happening to both characters from an omniscient pov, focusing on the MAIN CONFLICT to organize events. It's tricky, and I highly encourage you to make sure your final product makes sense by showing it to critique partners (or to me!)
Ultimately, it's a balancing act, and you have to decide which option works best for your novel and your voice.
What's the ideal word count range for a query? And the max number of sentences allowed in a query (does it matter?) – @ifeomadennis
I've heard it said that the ideal word count is 250 words, but I think this is, once again, dependent on you and your query. Less is always more in terms of word count, but don't freak out if you're at 300 words or even 225. Just make sure you've said everything you need to say, and not a word more.
How should a writer detail expertise in a certain period, especially if a history buff who researched a lot, not a professor? – @ConniDowell
If you mean, how do you make it clear in your summary, then my answer is: just write the novel summary, and let the research shine through. If you're writing historical fiction and you're including a specific location and historical events/people, I think it'll be self-explanatory that you've done your research.
However, if your question actually pertains to your bio paragraph, then you can include your interest in a given area of study. Don't go on and on, though. Just mention that you've spent quite a lot of time researching Ancient Egypt, and that your research played a large part in the creation of your novel, in particular the characterization of the Pharaoh. Or whatever.
I'd love to hear about historical fiction queries. Should one detail whether certain places and events are real or imagined? – @ConniDowell
If a place is real, I think the agent will recognize it. Same goes for invented places—if the reader doesn't recognize it, they'll assume its imaginary. Obviously this isn't a perfect solution, so if you're still not sure it's clear, you can always say the setting was "inspired by REAL CITY HERE" when you get to the penultimate paragraph of your query (you know, the one where you give the title, word count, and genre).
What's a good way to go about researching agents and finding the agent that's right for your book?
Ah, I love this question! Researching is one of my favorite parts of this process, after the writing itself. Here's what I've found:
Websites like 

agentquery.com

 and 

literaryrambles.com

 are GREAT resources for finding agents.

I  found a bunch of agents via Twitter (you follow one agent, you get a suggestion to follow two more…etc).

You can also buy books, but that's really not necessary. Or cheap.

You should also find out who represents books that are similar to your own. I'm working on a YA fantasy project, so I found out who reps J.K. Rowling (Harry Potter), Jennifer Bosworth (Struck), Leigh Bardugo (Shadow and Bone), Veronica Roth (Divergent), and on and on.

Another way to get an agent is by entering contests on blogs. I found most of these through twitter. Even if all the agents ignore you, you'll meet people who can be VERY helpful critique partners. I've made some great friends this way, and I rely on them a lot when it comes to feedback.

Yet another way to get an agent is through twitter hashtags. Keep an eye on #pitchmaddness or #pitmad. Basically, you write your book pitch in 140 characters or less (this part sucks, take it from me) and if an agent likes it, they'll ask you to send them a query. It's still the query model, but you already have an "in" that way.
I found over 200 agents this way, all of whom represent YA Fantasy (which is what I've written most recently).
Pro Tip: If you plan on writing in more than one genre or for more than one age group, then make sure the agents you're querying are open to this. No point is querying an agent who ONLY represents non-fiction if someday you plan on writing a novel for Middle Grade readers.
How important is it that [the agent] be located physically near you? Same coast? Same continent? Thanks! – @Swan Mountain
Not important at all. If it was, we'd all have to move to NYC (not that I'd mind…)
Last: give a quick and dirty tip for making a query shine!
Write it, then put it away in a deep dark corner of your computer and leave it there for AT LEAST a few days—a week if you can stomach it. You'll be amazed how much more clearly you can see the query after some time apart from it.
***
Lastly, as Juliana mentioned, I've started my own query critique business at laurenspieller.com. Stop on by and see me sometime. I'm happy to help with all of your query-woes 😉